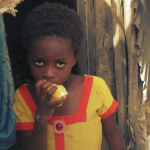 From a small tent
Aime is a 5-year-old child we encountered in May 2014 in her school Mixte Regard Divin. We entered our help program when she was diagnosed with the risk of malnutrition after a health professional analysis. Noticing the risk of malnutrition, we decided to visit her home. When we went into the camp, she came running with a great smile, happy to greet us. That was an experience we will never forget.
We found out that Aime and her family lived in a tent, set up with wood, iron, and canvas, of approximately 15m2. Her family structure is based on a mother that lost her husband and that needs to fight hard every day to supply basic needs, such as water and food. When we asked her about what would her main challenges be, she told us that it was a lack of food and a more suitable place to live.
To a new future!
After joining our help program, Aime started to receive special food to fight malnutrition, and her family received basic dry food. We also arranged to rent a new place for the family to live in.
The result? An amazing transformation and renewed hope for everyone. According to the Haitian leader that monitors the girl, she not only loves school but is now happier, improved her performance at school, and can sleep better. Currently, her mother is receiving biblical training, and in the future, we'll improve the development of new programs so that the family becomes self-sustainable. We'll need a long-term program so that the future of the new generations in Haiti is transformed. We thank all of you that have been participating alongside us in our programs. Together we can transform the lives of children and families in the most vulnerable nations of the earth.
Leonardo Paulino Luz