HAITI – PROTESTS CALL FOR THE RESIGNATION OF THE CURRENT PRESIDENT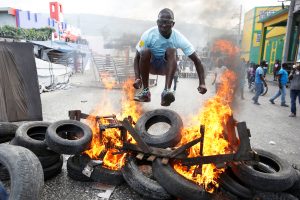 THE CAUSE

Nowadays Haiti has suffered a huge social, economic, and political crisis, with the increase of violence and insecurity. For these and other factors, many people took to the streets to express their dissatisfaction with the current government.
THE MANIFESTATIONS

The last days of this week have been marked by intense and violent protests against the government of the current president, Jovenel Moise. Several demonstrations have taken place on the streets of Port-au-Prince, as well as in other Haitian cities. The severe hunger situation, rising food prices, the rise of the US currency, and the many reports of government corruption are the main reasons for these protests.
The demonstrations paralyzed the Haitian capital, in addition to causing some deaths, due to the widespread increase of violence in recent days.
The situation is so intense that schools, companies, and municipal offices have closed their doors for fear of acts of violence.
P

RAYER REQUEST



Through such sad and sad news, we would like to ask the prayer of the Brazilian and American church in favor of the Haitian nation! Let us pray that the Haitian nation will be restored and free from all oppression.
We believe that through our cry, God will manifest His justice and mercy to that nation.
Pray for Haiti.
Source: BBC NEWS
Photo: REUTERS/Jeanty Junior Augustin
Access for further information.