From the ruins (2010)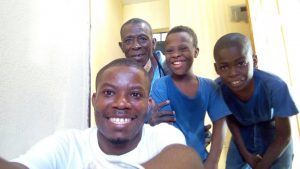 Steeve's life transformation is an amazing story. He (in the picture with his dad his brother and the missionary Ezechiel in a white shirt) was one of the first children I took in my arms in Port Prince in 2010. The city was completely devastated, with no electricity, entire communities were unsheltered and hungry. Steeve and his family were victims of the earthquake. We found him lying down with no hope at all. Despite not having too much medical experience, I decided to take care of him. After that small deed, he wanted to be near me at all times. That's how children are! They know when they're truly loved. I'll always remember him coming near me whenever he saw me. It was his way of showing love and saying, with no words: "I'm here, don't forget me".
The relief actions in Haiti were improving and Steeve joined one of the leading Nations Help's programs, the child and their families' rescue, in the Nurture and Shelter pilar (2014). The Nurture pilar are actions of food relief, bible studies, and school financing. The Shelter one includes actions for seeking habitations for kids and their families that have nowhere to go.
To a new house and story (2018)
We have recently renewed the annual rent for Steeve's family for the third year in a row, and they are still part of the nurturing and education programs. His family is extremely poor, but these little warriors have been transformed by the restorer power of Jesus, and therefore have reached their homes. Each year, we have seen with our own eyes the amazing transformation in Steeve and his family's destiny. We wish to continue in our vision to glorify God, that truly loves these children.
We'd like to invite you so that together we can transform the future of the new generation!  
"Because the poor are plundered and the needy groan, I will now arise," says the Lord. "I will protect them from those who malign them."
Psalm 12:5
Leonardo Paulino.