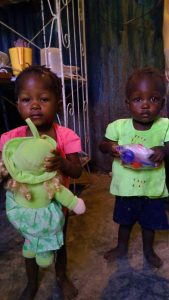 They were sleeping on the floor of a church that at the time sheltered the homeless since the tent/family home had been devastated by the Hurricane. As soon as I met them, the father abandoned them and they had to stay with their mother. They presented, besides malnutrition, common diseases in this situation, such as the phlegm in the lungs and anemia.
We started with immediate relief, providing mattresses so they would not sleep on the floor, and also, food. Upon joining the sponsorship program, Nations Help was able to provide them with medical assistance, pay for laboratory tests, and purchase medicines needed to treat diseases.
The church arranged canvas and plastic patches to their tent/house and they went back there. It so happens that during the winter period it rains regularly in Port Prince and rained inside the patched tent, so the mother had to shelter them in a corner where it rained less inside.
We started planning the rebuilding of the tent/house of the family and thanks to God, we were able to finish the outside of the house and today they have a place to sleep without fear of rain. We will still make a new floor to further improve the quality of life of these little ones.
With the assistance given by Nations Help, these two children today have not only a roof, but food, drinking water, clothing, medicines and now, at two years of age, they are within the normal height and weight for their age, because they are well-nourished and well treated. They are also in a school to learn recreational activities and develop sociability. Their physiognomy changed. Sadness and hunger gave way to wide laughter. When I arrive in the community where they live, they run into my lap and hug me with priceless smiles.
This story fills my heart with joy. Seeing children so weak, so malnourished and abandoned, now developing and hoping for a better future is incredible.
Thank God that moved hearts to transform lives. Your contribution is worth more than gold.
Marileide Menezes, missionary (Christian Community of the South Zone) and leader of the fronts of Nations Help in Cité Soleil, Port Prince, Haiti.