Income-generating programs are implemented in Port-au-Prince, Haiti
Generating income in a nation like Haiti, where there is scarcity in all spheres and many social, cultural, and economic adversities, is profoundly challenging. Most Haitian families struggle daily for food, water, education, health, sanitation, and housing. The country is constantly facing natural threats such as earthquakes and hurricanes, but in many hearts, we have sown the faith necessary for transformation.
August 2018: Opening of the handicraft workshop in Delma 31, Port-au-Prince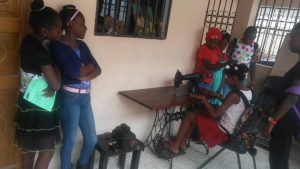 Nations Help made a trip with a team in August 2018 that, faced with various needs, decided to offer resources to purchase a sewing machine. The machine was purchased a few days ago and will increase the skills and production of products that will help generate income for the program's families. In January 2019, the parents of the children will receive training to produce sandals and bracelets and new opportunities for families will emerge.
2018: Opening of the handicraft workshop in Cité Soleil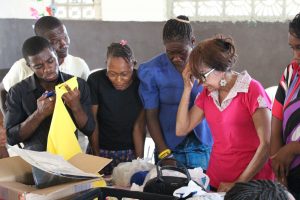 Missionary Marileide, responsible for relief operations currently assisting 210 children in one of Port-au-Prince's poorest and poorest neighborhoods, Cité Soleil, has trained 20 people, including leaders and mothers of the children we assist, to produce various handicrafts to be sold and applied in the generation of income. This beautiful initiative has given back to families and leaders the self-esteem and the expectation of a future full of hope and new opportunities. In addition to having implemented this project in this environment, she was also an inspiration to Missionary Ezechiel, leader of another front of Nations Help in Port-au-Prince (Delma 31), where 98 children are assisted with food, education assistance, school of worship, English class, Portuguese, Bible study and discipleship. Receiving technical knowledge from Marileide, Ezechiel readily decided to teach pre-teens techniques for producing personalized bracelets and sandals, bringing dignity and joy to their families for believing that it is possible to realize dreams in a place full of hopelessness.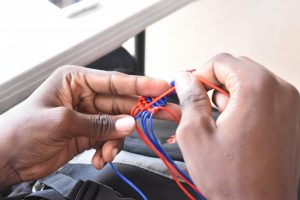 2014: Defining a model
In 2014, we wrote our model of action for relief, which involved, when possible, the participation of the families of the most vulnerable children in the programs (read about NH over the years), and had, as the last step, the implementation of income generation (social development). Over the years it has been extremely challenging to deploy programs with long-term sustainability, but we persevere, knowing that this vision was in the heart of God.
Acknowledgment
We want to thank those who believe with us and help us realize dreams. May God rewards each one of you in a special way, and that together we can continue to transform the future of the new generation!