In Cuba
I was in Cuba at the beginning of September, this country which is a symbol of communism in the West. I was directed by God to intercede in the country in favor of Brazil, but deep compassion flooded my heart for the church and for the Cuban people, a wonderful people, but with many sorrows in their hearts.
Intercede
The church in Cuba needs help. We need to pray that they will be strengthened and persevered in the Spirit and in the Word, despite all historical control. There is a cry of compassion from the Spirit that echoes in favor of this nation!
A special photo
I describe the country in the photo I took in Revolution Square, one of the most emblematic and historical places in Havana, the capital of the country.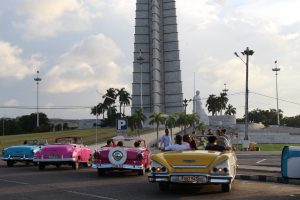 The cars are in its majority from before the revolution (1959), there is an immense tourist potential due to the beauties of the country and the beaches of the Caribbean; but a story marked by the influence of the thoughts of José Martí, a communist thinker who influenced the revolution (tower and statue dedicated to him, in the background).
Leonardo Paulino.